Need free gift ideas for
Teacher Appreciation Week
? In celebration of teachers everywhere, our site Funny Employee Awards is giving away a
FREE Teacher of the Year Award certificate template
.
You can customize the certificate within seconds by typing directly onto the PDF template before printing. This free gift is sure to brighten the day of your favorite teacher! Just click the link below to download the PDF and enjoy!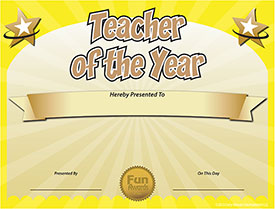 Click Here to Download Free Award
(PDF)
There's even an area to write your own customized message. This could be serious or silly. Here are some ideas:
For inspiring me to achieve my greatest potential.
For your hard work, dedication, and patience.
You deserve a raise. But for now, this free award will have to do!
Customize it even further by creating your own handmade frame or certificate jacket (just get an oversized piece of poster board and cut four slits to hold the corners of the certificate).
If you like this
free Teacher of the Year Award certificate template
, we only ask that you please tell a friend. Post the following link to Facebook, mention it on your blog, or email it to your friends.
Original post:
http://blog.funawards.com/2009/05/teacher-appreciation-day-2009.asp



Funny Teacher Awards


101 Funny Certificates for Teachers, Faculty and Staff
From comedian Larry Weaver, these awards are good-natured fun. Show teachers you appreciate their hard work, long hours, and tidy classrooms. Download your copy today at
www.funawards.com/teacher-awards